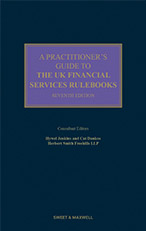 A Practitioner's Guide to the UK Financial Services Rulebooks is the leading guide and commentary to the Handbook of the Financial Conduct Authority and the Rulebook of the Prudential Regulation Authority.
Five years since the creation of the two handbooks, the 7th edition covers significant regulatory developments and how they affect your day-to-day operations. Since the last edition, the PRA has developed its new Rulebook format, and the text reflects the increasing divergence of the FCA and PRA rules (with more focus on the former). There are two new chapters on specialist sourcebooks COLL (Collective Investment Schemes) and CONC (Consumer Credit sourcebook). In addition, the Approved Persons chapter has been completely revised to reflect the Senior Managers and Certification Regime, while the Conduct of Business chapter now reflects the significant change introduced by the second Markets in Financial Instruments Directive package and other European legislation.
Closely following the structure of the handbooks for ease of use and written by a team of leading practitioners who are among the best-known advisers in the City, this book is a detailed, thorough guide and commentary on the handbooks.
Features
Closely follows the structure of the rule books
Covers the impact of EU and international level developments including MiFID II, MAR, IDD, Solvency II and Basel III
Explains how conduct of business, prudential regulation, authorisation, enforcement and consumer issues are dealt with in the books
Includes chapters from some of the foremost financial services legal practitioners in the UK
What's new?
This revised edition reflects the divergence of the FCA and PRA rules since the two regulators emerged from the FSA (with a practical emphasis on the former).
Includes two new chapters covering specialist sourcebooks, COLL and CONC
An updated conduct of business chapter incorporates changes arising from MiFID II and the IDD.
The Approved Persons chapter has been significantly updated to reflect the introduction of the Senior Managers and Certification Regime
The chapters contain commentary on recent enforcement cases and regulatory interventions providing additional insight where relevant.