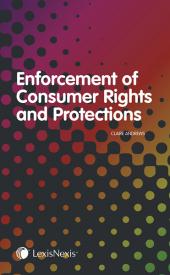 Enforcement of Consumer Rights and Protections is a practical ready-reference to help guide lawyers when dealing with client work in relation to goods, digital content and services, and an essential aid for local authorities when prosecuting or bringing enforcement action against traders.
The book covers powers and responsibilities of regulatory bodies, the UK's approach to sanctions, criminal penalties, investigatory powers, disclosure, consumer redress, the Ombudsmen Schemes and the EU framework within which UK measures apply. It provides a birds' eye view of the regulatory arena, encompassing the changes since April 2014 in every area where consumer rights and protections are engaged. It deals with the Consumer Law Reform Programme, notably:
The Consumer Rights Act 2015
Part 4A of the Consumer Protection from Unfair Trading Regulations 2008
Consumer Contracts (Information, Cancellation and Additional Charges) Regulations 2013
Alternative Dispute Resolution for Consumer Disputes (Competent Authorities and Information) Regulations 2015
It also addresses the ways in which other legislation is making changes for consumers, especially in the provision of services such as consumer credit, communications and transport and contains pointers to much Government Guidance on the very many topics which comprise consumer law.