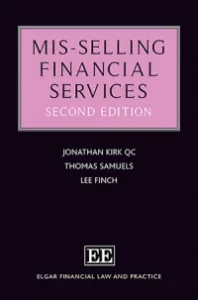 This second edition of Mis-selling Financial Services is a practical guide to litigating claims arising from the mis-sale of financial products and services. It covers the history of 'mis-selling' litigation and provides an updated overview of the regulatory landscape and how such claims are formulated, as well as a thorough review of the key issues. The revised chapters give an in-depth analysis of the financial products which most commonly form the subject of such claims, from credit to collective investment schemes.
Key features
Updated with new chapters on Financial Ombudsman Service (FOS) and unfair terms
Explanation of the key issues and considerations concerning mis-selling litigation
Clear and concise analysis on the law relating to the mis-selling of regulated financial services products
Overview of the UK and European regulatory framework governing the sale of financial products, with particular focus on five key product types: credit, mortgages, investments, insurance and collective investment schemes
With consideration of key legal and practical concepts and issues, this book is an essential read for practitioners and in-house counsel working in the financial services industry. Academics who are researching within the fields of financial services law or consumer protection will also find this to be an informative text.